Paul Weeden updates us about Llanfalteg.
It is good to set out with a plan, but sometimes it goes off the rails! When planning the layout, I had made provision for a traverser with loco head-shunts both ends which was taking up approaching 8 feet altogether. As the scenic section progressed, I became disappointed with the length the fiddle yard was taking as it was intruding into the available length for the scenic section. The entrance to the fiddle yard was going to be immediately after the end of the station platform and it was going to be difficult to mask against the rolling Welsh hillsides. After considering the problem I decided to reduce the fiddle yard to accept two coach lengths on the traverser with a head-shunt at the far end to accept the longest loco. This
enabled me to extend the scenic section by just under three feet and introduce a level crossing before the track disappears behind a hillside. As the traverser will only have 3 roads, I don't think this will limit operation too much, although I am thinking whether to introduce a factory siding as a head-shunt on the scenic section. The trackwork has now all been ballasted but needs to be weathered down.
You will see from the photo that I have also trialled a proprietary photo scene background, unfortunately this is only available as a two-sheet continuous scene and I will need more like 5 sheets. The trees on the Welsh hillside won't grow high enough to disguise disjointed scene at the joints!
David Hopkins updates us about Southbrook Station
A couple of years ago I wrote an article about the layout I was constructing (Southbrook).
My layout is basically a large oval in a shed 14ft by 24ft, with one end of the curve sections going out into the garden.

The first problem was back in the winter 2021/2022, I started to ballast the track using woodland scenic crushed nut shell ballast (as we used on Edington) with a watered down PVA mix plus a few drops of washing up liquid. At first it seemed to be setting but it was taking a few days, then after doing a bit more I noticed that the PVA mix was still looking white. I then realised that it was not drying but freezing. When working in my shed I have a fan heater to keep me warm, but turned this off when I locked up. Outside temperatures were below -1C, so the ballast mix was not setting. I purchased a greenhouse tubular heater with a thermostat, problem solved.
The next problem was that when I built and wired in my fiddle / storage yard, to operate the 11 points and take the track power feeds, I purchased and used 8 core multi coloured alarm cable., I needed 4 x 15-foot lengths of this, wired from the control box to a 25 pin D connector and 6 pin Din plug. I thought at the time how hard it was to solder, especially the red covered wire, and didn't know why. After about a year (now 2022) the wires started coming apart from their terminals causing me much stress as I tried to operate the railway to visiting guests.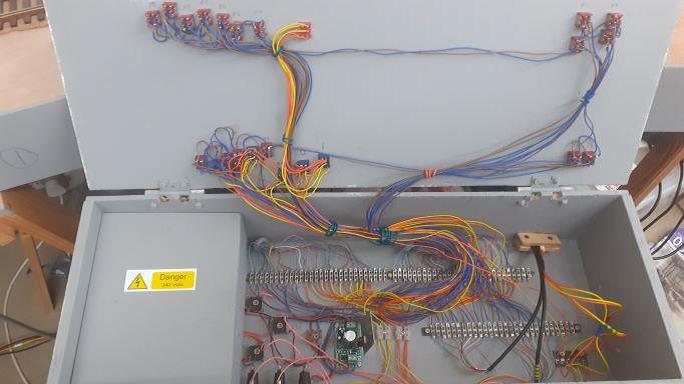 I talked this over with fellow member Barry. He asked if the alarm cable was made of aluminium? I later found out yes
it was, and this was my problem. I searched the internet and found some 12 core multi coloured cable that was used on aircraft cockpit instrument panels, I thought yes, I will have some of that. So, a couple of days soldering (and wire was so easy to solder), everything is up and running again.