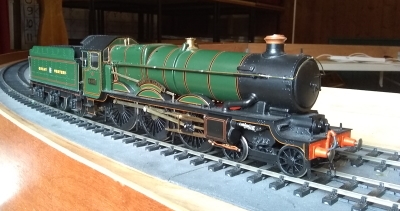 Saturday trial meeting 22nd August
Rob M
It was good to see John J and Bill R drop in making 10 attending. With the Circuit and tables ready for us, it wasn't long before I' had a mixed train moving behind a BR(S) O2. Paul H, our District Rep, ran a gleaming GWR Warwick Castle, which he plans to fit with a DCC chip. John B arrived with models to work on and a SR Terrier to pull his freight train. Next, the diners arrived; Paul W and David Ho. wending their way across the Lees.
D2861 in BR green, built by Roger, took to the rails with Lowmacs and a Dancehall brake van behind it. (It wasn't actually carrying a sanitiser spray and paper towels for the controller, as it may appear in the photo.) Luckily, he had brought a DCC controller, as the next arrival was Tim with his little apple green loco. With an occasional whistle, this 0-4-0t pottered around, gently puffing. Paul W, constructing our new baseboards, stopped to watch, then produced his Split Headcode Class 37 in BR green, which made an impressive sight on a freight. The GWR returned to the Circuit with Bill's tender loco being checked and tested.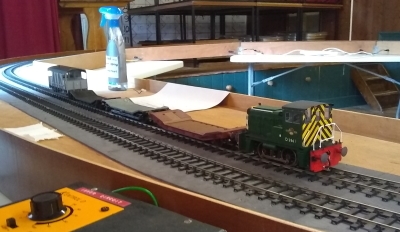 David Ho. lit the grain of wheat bulbs he's put into lamp-standards. On the next table, David G constructed stock. John B and Paul H had chosen tables next to windows for their work, both giving finger-powered runs to underframes during the afternoon. Members liked having the ring of tables, and as Paul H said, our Circuit is the icing on the cake for all who attend. After a friendly and productive session, our team cleaned down surfaces and packed everything away soon after 16.00, Paul W making sure the hall was secured.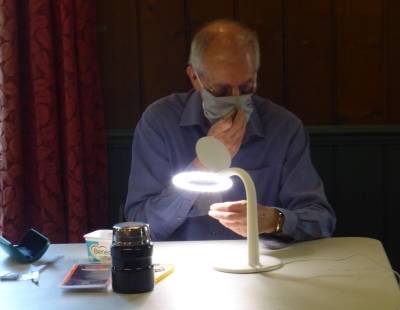 Waiting on the doorstep was Tim with his first kit-built loco to show, closely followed by Paul W lugging a new baseboard section. This time we positioned the Circuit overlapping the stage, to find if that would give more room to play with. Again, we had eleven attending.
GWR and Western Region stock was soon running, besides Light Railway trains. Geoff's shunter later joined Fred and John B's models, as did Roger's "Yellow Peril" industrial diesel. Built on a Lima powered-bogie, it could slowly circle, but, if sharing a line, rapidly tried to overtake. Once more, Paul W's worksite was the centre of the Circuit. The new baseboard was given a zig-zag of stiffening, and later we saw temporary legs being fitted.
Chris M examined the track plans while waiting for little figures to dry. The Edwardian people had been given grey undercoats and were now gaining colours from acrylic paints. John B and Geoff's table had several items of rolling stock being worked on, along with a BR(S) M7. A pair of high capacity modern opens were being assembled on the next table. Lamppost production continued, as David Ho. planned to fettle a baseboard from Sarre at future sessions.
Mike P appeared with part of his creosote depot to work at: the drill-shop for track sleepers. He is hoping to enter it for the Gauge O Guild's "Virtual Show" in the autumn, so keep an eye open for it. I'd found a few more pieces in my box of bits, so was adapting them to provide brake gear for an 8 plank wagon. David G used bending-bars for a short carriage, while reporting on the funeral service for Les, where he'd represented our Group.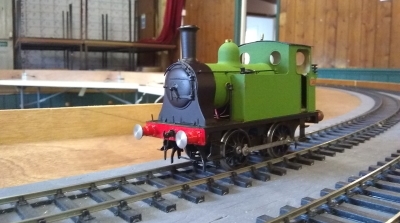 August 5th Post Lockdown Trial Meeting
RM [Photos – Ross S] & Rob M]
Eleven members donned their masks on August 5th and ventured to Badlesmere, and were greeted by a short train of Welsh stock pottering around our tracks. Sitting on the shady grass, I saw most of the arrivals before they sanitized hands, at the door, and checked in with Roger. Equipped with drink and food, plus small space modelling projects, they took a place on well distanced tables.
Small Edwardian ladies were being readied for the Margate seaside by Chris M (I guess they'd have more space than post-lockdown crowds.). Area Rep, Paul H brought a steam railmotor to work on, and was discussing his battles with the driving bogie with David G, who was laboriously folding the floor of a bolster. As others fettled stock, David Ho. produced a row of platform lampstands. Geoff dropped by, after lunch, to see how we were getting on.
In splendid isolation, Paul W worked on new baseboard sections, in the centre of circling locos and short trains. Weathered coal- hoppers were propelled by a matching grimy 08 of Fred's, with John B's light railway stock on the second track. Ross hitched his latest pair of wagons to my saddle tank to check their running.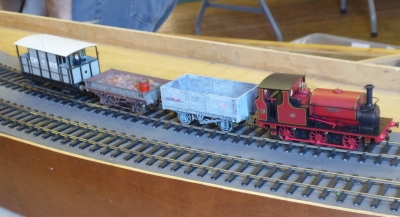 The previous day, our Committee opened every door and window, before setting out tables and the Circuit under the watchful eye of Ian, the hall manager, who showed us the sterilizer auto-dispenser and all the measures installed for protection. He told us that the roadworks were expected to end soon, along with the deserted roads. Those wishing to dine at the Red Lion must book a place by phoning beforehand.
It was good to talk to other modellers and see what they were making. We felt that the session had worked well and welcome feedback from members.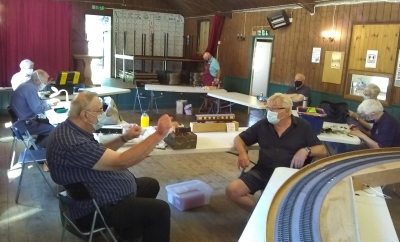 Photos: 1 John B at his modelling station; 2 Ross hitches his wagons to Rob's loco and brake van; 3 Modelling tables.