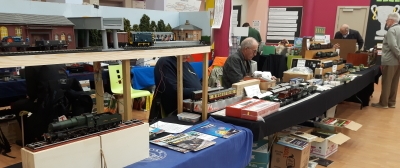 The Gravesend Railway Enthusiasts (GRES) club had invited us to their show in 2019 but, of course, it was cancelled as was the 2020 show. Happily, this year it was on. Roger set up the tables with cloths and the display stand on the Friday night. Although we only asked for 12 feet of space for the stand, sales, demonstrations and the Gauge O Guild, GRES provided about 24 feet plus a bit more for Geoff Roberts and his diorama. We had so much sales stuff that lots of the intended demo space was taken up with that. John J displayed one of his garden railway sections and was kept busy by enquirers. The rest of the stand was looked after by John B, Roger and David G. Paul H was to our right with Guild stand and Geoff to our left with his diorama, Wapping Wharf.
On Sunday Roger, John B, Geoff and Paul were back and Chris M and Bill R joined them.  Both brought items for the display stand, the SECR and GWR being represented.  Roger had BR diesel-themed items out and John B had brought buses.  Bill had space to demonstrate figure painting and Chris showed wagon construction.  It was an enjoyable outing, rather less tiring than working a layout.  There was also more time to talk to the visitors.  Three or four took our contact details and said they may to see us on Open Day.
Photos in the Gallery.
Roger H