Another full house with twenty of us getting together at Badlesmere.
The circuit was quickly set up and running commenced with a wide range of stock including, in honour of the Jubilee, Ross's K&ESR "Royal Train" consisting of a Terrier, a GER brake third and a royal saloon.
In support of the bona fides of this configuration Ross produced photographic evidence of the prototype running on the K&ESR.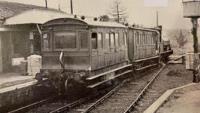 Paul W quickly carried the outstanding repair to the dodgy branch line turnout on Edington before turning his attention to Lenham where he and David G studied Tim's signalling diagram.
Tim, John P and David Ho set to work on the micro layout firstly reducing it in height to fit into the back of my car and then discussing the buildings to form the backdrop. Once this has been finally agreed they will then go on to start laying the track work.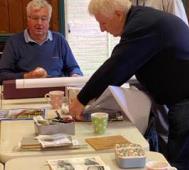 Over on the big table the usual crowd congregated round working on various wagons while Paul H painted seated O Gauge figures. David Ha carried on with his Col. Stephens railcar bending the roof through his rolling bars and soldering it all in place as John D worked out a shunting puzzle which he was preparing for a school event.
Later David G, Paul W and I carried on laying sleepers on Lenham. David cutting them to size with his bespoke sleeper cutting scissors and me sticking some of them to the layout and some of them to me.
During lunch we discussed the arrangements for the forthcoming trip to Mangapps Railway on 8th June and finalised the numbers going. We then went on to discuss at length this year's Open Day on Saturday 23rd July and took the names of those members committing to attend on the day. Currently there are twelve members, with several others still to confirm their availability. We will need as many members as possible in order to support each other and share the load on what will be a long day so please commit to this event if you haven't already done so.
We will set up the hall on the Friday before at 2.00pm, and arrive at 10.00am on the Saturday to open the doors to the public at 11.00am, before finally winding up the day at 4.00pm and putting everything away.
Chris