This week's theme on the circuit was LSWR stock. David B ran Terrier in LSWR livery along with some very nice four- and six-wheel coaches. David Gr ran an Adams G6 0-6-0 tank and a couple of other locos. Going off piste John B ran an ex-Manchester Ship Canal Hudswell Clarke 0-6-0 tank and Geoff ran an ex LNER J15. Paul H brought his motor car power unit to test again and Fred ran his South Eastern Class 375 set and his LMS Jubilee Class "Frobisher".
Mike brought in his award winning "Creosote Works" diorama and ran through the sequence of operations it depicted from the sleepers being brought in to then being creosoted before finally leaving the works after having had chairs attached.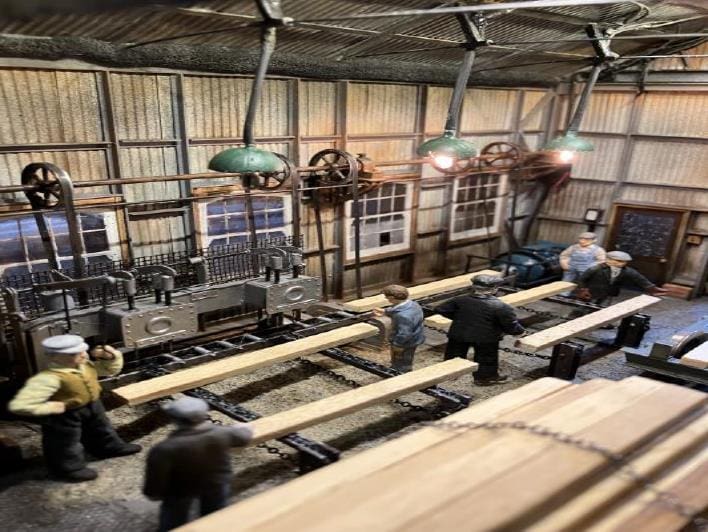 While this was going on Roger started work on the station building for Queen Charlotte Dock, Fred was inveigled into working up little cameos for the occupation arches. Paul W carried out maintenance on Edington.
Over lunch I read out the usual notices and informed the meeting that we had withdrawn Queen Charlotte Dock from the Gravesend show. We had arranged instead for the Beckenham club to take our place with their layout Medway Quay but we learnt from Nick that due to a lack of operators and transport they had had to pull out. We then agreed to
take a static display and Mike P's Tar Works Gravesend in order to fulfil our commitment to Gravesend.
Doug had gone by this time but had left details and prices of the products he is able to supply together with generous discounts for EKOGG members. The full list will be put up on the notice board.
Last but not least in the absence of David Ho Tim in between fixing the brick arch fronts to Queen Charlotte Dock provided us all with teas and coffees. Chris