Paul W and Fred had opened up and were setting out tables when I arrived. Once a half dozen members were present, 'Edington' was readied for running, especially P O locos and wagons – today's theme. Kentish wagons; many from Somerset, and several from the Welsh Marches caught my eye. One train was tailed by an intriguing Irish brake van from Geoff's collection of stock.However, some work checking the tracks was done. Chris added stone and green paints to his palette to continue blending the scenery edges along the access paths in the goods yard.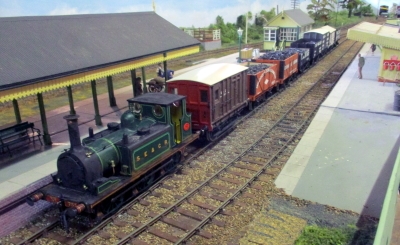 You could say the main talking point was found on Tim's table, where he had his dual-gauge pointwork. This particular one caused much interest in general, as well as particularly to electricians, as it often short circuited. Sometimes with six of us watching, three multi-meters were applied to it, plus a lot of thinking. I believe that the problem was solved and a couple of additional cuts through the copper cladding on the sleepers around check rails and frogs will do the trick…….
Shortening Y points was exercising Paul H's mind as he positioned them on the full-size plan for his new mini-layout / diorama. It looked as if a slight shortening of one branch would keep the layout width in limits. Bill, who'd sent us photos of Isle of Wight Railways during his holiday, returned with tasty biscuits for us to sample. Tim, David Ho. and John P popped into the kitchen to cater for our needs and tidy away. So, a friendly day with knowledge and biscuits being shared.
Rob M