Fifteen of us battled it out, with bottles of Kentish beer as the prize, in Ross' Christmas Quiz. Despite despair and head scratching we had great fun and enjoyed the photo section. Photos of Garth 's layout in Australia played while mince pies were given out. A refurbished B4 tank trundled on a rolling road as David showed a LSWR road van in progress of soldering from Michael's new slot-together frets. Robin showed us a Class 33 body and fittings that he's using for an early version. Roger and Ross are building Birdcage brakes in parallel (not a race) reporting progress by frequent e-mails. Before we wished each other well for Christmas, we had tantalizing glimpses of Buster Keaton's silent film 'The General'. [photos-Garth W]
2011 Review of the year: March's Celebration of our 25 Years went very well. Old friends joined us for an impressive model display, reminiscences by Peter Hingley, cine film and photos covering the years. The cake was cut by founder members. Current members worked a rota of chores to keep the event moving. We'd even got an Anniversary spread in the G0G Newsletter. Thanks to Alastair Malcolm, the Committee, those we've co-opted, and to all for an enjoyable year working together.
We have some 30 members; including Garth Wyver in Australia, and Nigel Grant, returned from loco bashing days, 20 being regulars. The Layout opened 15 times during the year – a whole 144 visiting. 108 attended Faversham; some lunched at the Chimney Boy before meetings. Members represent G0G at exhibitions, and others have published articles. We produce news sheets, contribute to the G0G Newsletter and keep a website. We've tried to ensure that everyone can join in all our events.
Nineteen attended the AGM and impressive Model Competition. Richard Barton's vans carried off the SECR award and the Passenger Section. Geoff Roberts took first for freight stock. John Minter's freelance Victorian 0-4-4t won the loco section, just pipping Mike Perry and David Grimwood to the post. Rob Moody's SER lineside cabin topped the scenic section.
November had Barry Weston sharing his loco building knowledge with 14 attentive members. Ross Shimmon's Christmas Quiz, with photos, had 15 of us enjoyably puzzled, the Vice Chairman narrowly winning. Pictures of Garth's layout played while we ate mince pies.
Other meetings have featured signalling, G0G films and footage from classic cinema, as well as plenty of discussion and problem solving. Models have been shewn, items sold or exchanged, and a whole lot of coffee and biscuits served by Joe Barron and his crew.
Whatever the climate, we can be found at the layout. Great progress has been made. Soon we'll be running between the branch stations. We begin with a picnic and chat, looking at each other's models. People gravitate to various projects, but lend a hand where needed. Trains usually circle throughout our working sessions.
Our plastic sheeting has controlled most of the leaks, but when we're waterproof we aim to plank the missing flooring, before installing a work bench and seating. We also hope to reposition some lighting. Main circuit tracks have been bonded around fishplates, mainly by Maurice Baker. Cavedale is running reasonably well with ballasting complete and a start made on re-vamping the scenery. The team there is led by John Plumpton and Roger Harmer. On Nailbourne the last rails were fixed down in the expiring seconds of the season, to be celebrated by the lights going out! David and Joe put down foam underlay, with Robin Fielding and Barry setting up a production line to ready points. Ross Shimmon and Nigel were often on ballasting, while Ron Steward and John M. have provided signals. We wait to see just how portable it is.
We had a splendid meeting in November as Barry Weston passed on some of his loco building knowledge. His model in progress, a rebuilt Merchant Navy illustrated his techniques as he moved through from assembly to finishing and painting. At each stage we took the opportunity to ask questions. The stronger members carefully passed the boiler around the table – Barry believing in weight on a rigid chassis fitted with roller bearings, wiper pick up combined with a beefy gearbox and motor to give smooth running. [photo-Ross S]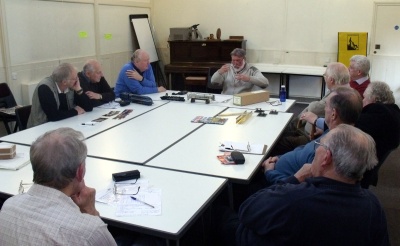 Three buffer stops, varying from spick and span to slightly decrepit, had been made by Ross. Others showed a GNSR 4-4-0 project, layout photos, loco parts, a Coronation and Birdcage coach kit.
Two mini layouts are promised for February's AGM. May 12th sees us at Faversham's Model Railway Show, and an "At Home" is planned for a summer Saturday.