28th April: A quiet meeting today. Roger ran his H class with a short goods train until it decided to run erratically. Roger and Robin had a look at it but had to be retired for works attention later. Robin ran his new Heljan Crompton. He bought it last year but today was the first time he had the chance to run it. Ron then turned Cavedale into a Great Eastern/LNER scenario and practiced shunting to demonstrate that Cavedale does what it was designed for. Nailbourne has been invited to attend a show in November. Joe and Robin discussed what this means in terms of work to be done, a supporting structure and transport arrangements. Then, after tea and a run on the mainline for the Eastern freight train, they all agreed that it was far too cold to carry on and went home.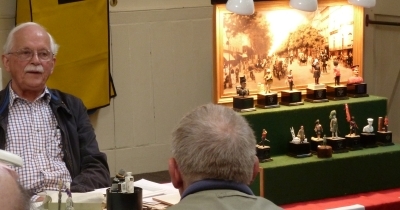 John Regan gave us an entertaining and informative talk on April 21st on the theme of painting model figures. He showed an impressive display of figurines in various stages of sculpting and finishing. Seventeen members were soon asking questions which John used his practical knowledge to answer.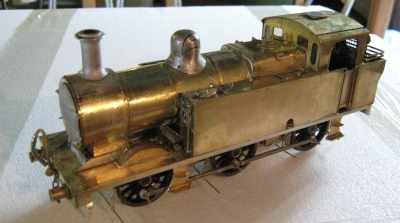 We imagined it would be a sparsely attended layout session on Easter Saturday (7th April) as it drizzled and the dank sank in, but once Barry had set his Merchant Navy to whisper round the circuit, people flocked in. New member Mike arrived with the aid of a navigator. We had a variety of stock running from a double headed "Holyhead Express" to a chimney-less 2-6-4t with MTH carriages. David also had a Jinty on test, as Ron adjusted body height on his GER tank. They were busy on Nailbourne, while the old curved modules were connected to let a diesel venture round from Cavedale, where the electrics were having a bad day. We planned to have a tidy-up beneath the baseboards, as we never know what we'll discover when we move boxes! The day ended with a B4 plus a commandeered Maunsell coach on the inner circuit.