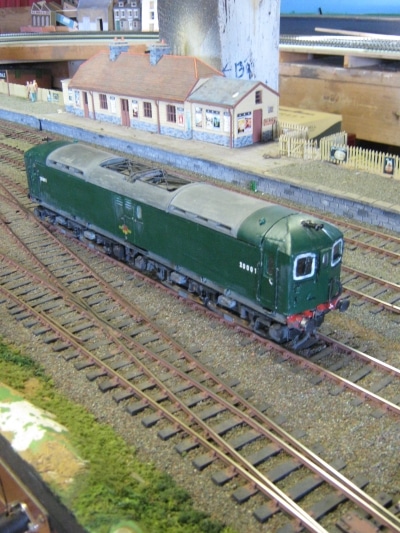 Ross got things moving at the March 10th meeting in town when he brought a holdall filled with set track, which was soon laid out on tables. His B4 happily trundled round with mineral wagons, though the tight radius limited larger locos! Les supplied us with shortbread biscuits while people looked at restoration projects and models in progress. David had selected super films of steams' run down and scrapping, followed by 1990s views around Southampton.
Unable to prolong lunch in the warm garden any longer (24th March), we uncovered the layout and began vacuuming and polishing rail. Within a short while a B4 was out, quietly waddling around the main circuit.
SR electric loco, 20001, was first on Cavedale, collecting a cobweb or two in the goods shed. Nailbourne's crew checked ballast and readied point motors. A SR Pacific, SR EMU, MR Flat iron with six wheelers, speed whiskered DMU and speeding Lima 0-6-0 soon joined the tracks. An enjoyable afternoon and start to our running season.