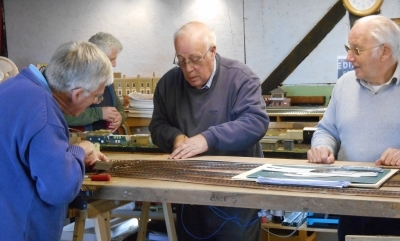 Autumn 2014 – Mid-week sessions
David G and John P have organised Wednesday sessions when we can assist with construction of Edington, run stock and model, or drop by for a chat. October 22nd was cool but sunny so we lunched outside in our jackets. Roger continued his battle with "Sale Items", before we turned our attention manhandling tables and workbenches to what we hope are final positions. Prussian blue trains trundled by as Barry soldered on Edington, while David Hopkins cut rails between sections. Ross placed the finished lamp hut, complete with rusty "No Smoking" notice, on the layout beside various mock-ups of buildings. On the 29th out of the mizzle, following dictated directions, came Richard and Mike, finding us ready with tea. Up in the loft baseboard bracing was checked as a red tank loco pottering round. Soon Richard was running-in a 08 diesel. Nine of us lunched with LMS trains on the circuit. Sector plates were eased and buildings planned, plus sorting and tidying continuing. We sposhed into the gloom around 4 o'clock.
On a chilly November 5th landscaping began on Edington, with polystyrene panels beginning to build up the heights of the Somerset levels… Up at the SEG0G Show Maurice and Colin S helped Roger with the G0G display and sales. Continental freights hurried their Interfrigo vans around the layout on the final session: SR electric locos in parallel with a D65er. Outside thrushes raided the hedge for berries under as crystal clear skies. Kettles on, we finished jobs: Jim fitting contoured edges to Edington, Paul measuring signal locations, and Roger planning the signal box. David G and Barry adding landform, with John P working on platform edging. David 2 joined Colin on Nailbourne before the covers came out and we put the layouts into hibernation mode ready for spring.
October 25th – Town Meeting
Twelve of us watched, and some were brave enough to try using "Templot" on the projector screen in the Fleur De Lis Hall, as David G developed track into curves and points. Afterwards we had film of track laying on the LMS. With internet connection we showed our website gallery to those without computer access. After tea and Australian Beyer-Garretts, it was a good look at film and photos of Edington Junction.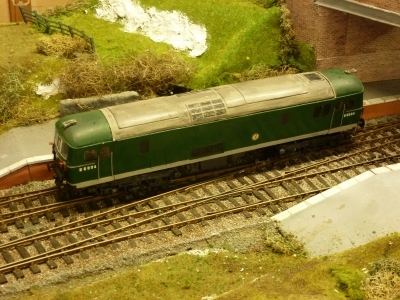 October 4th/5th Making & Running: EK0GG manfully picnicked in the garden until a squall sent leaves tumbling and brought splashes of rain. We had a dozen model making and running trains. Soon Maurice's MR freight had half a dozen colourful salt vans was on the circuit. Colin C got himself up to the loft, after a breather, and a little later his son, Simon, hurried in out of the rain. Soon they were discussing Terrier building with Barry. Colin S and Ross were sploshing filler and glue; greenery spreading by Nailbourne's tunnel. Stuart joined them later on, when they were wallpapering the sky… David 2 cleared up the kitchen, then sketched out electric feeds with David G. Paul was engrossed in pointwork when Alastair looked in. David 3 eventually got through the road hold-ups to join them on Edington. At the Folkestone Show on Sunday, John P found Roger and Geoff enjoying a sunny view over the Channel on the G0G stand.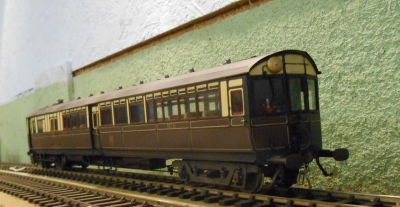 20th September 2014 – At the Layouts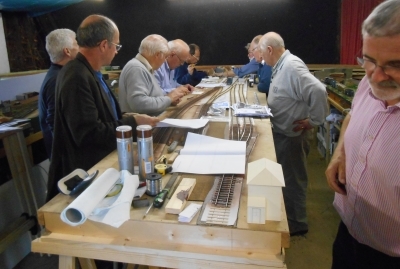 20th September – At the Layouts: On a misty day we were out in force, lunch brightened by home-made cake. We caught up with news of Telford. The fourteen of us studied photos of Edington, plus building plans as we discussed valancing. Around us a long rake of Midland parcel vans ran with a GWR steam railcar on the opposite track. Battle was done with recalcitrant point motors and blades for trap points. In the workshop we mused over the sector table while strengthening the floor above. Four Lima Class 33s chuntered along later amongst other trains. Roger will be representing the Guild and us at the Folkestone Model Railway Show – 4th & 5th October.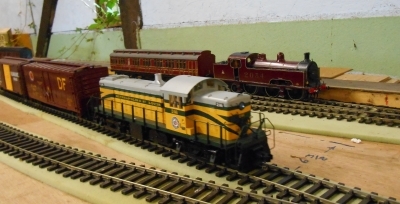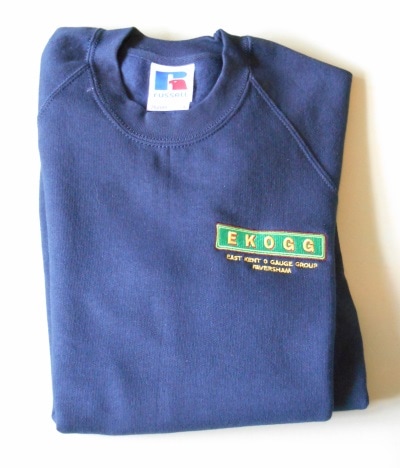 30th August 2014 – Running and layout construction
A crowd around Edington were using a mock-up house to gain an idea of space available, but the fitting of points and their motors occupied most time. The control panel was being planned, while the sector plate was being pared down. A M&StL Railroad diesel and boxcars beat Midland trains onto the circuit, to be followed by a Terrier and a saddle tank with a pair of brake vans. Later a diminutive diesel mechanical took to the rails. Alastair, helping sort a derailment on the lifting section, wondered if we should call it the Tay Bridge… Paul and Roger produced a score of almost finished waggons from the boxes they were sorting through. The Nailbourne crew were being creative, adding to the over-bridge with fingers dipped into polyfila and, installing a telephone kiosk.
Our new sweatshirt design will be available to inspect and order at future layout sessions and meetings. The Group has paid for the setting up of the embroidery, so keeping the cost reasonable for members.