Working Sessions for Nailbourne
David and Colin organised their working day and had the residents supplying them with coffee and cakes! The electrics continued to be tested and platforms were positioned. Ron planned a road bridge for the layout, based on one he knows and a control panel table was made.
Alastair conducted his family round as a dozen of us beavered away, following our picnic. Twelve locos appeared on Nailbourne to put the electrics through their paces, while a SE&CR rally at Cavedale saw 4 more and at least 7 were out on the main. Buffer stops, cutting sides, platform edges were installed, targets set, and a good time had by all. [Rob]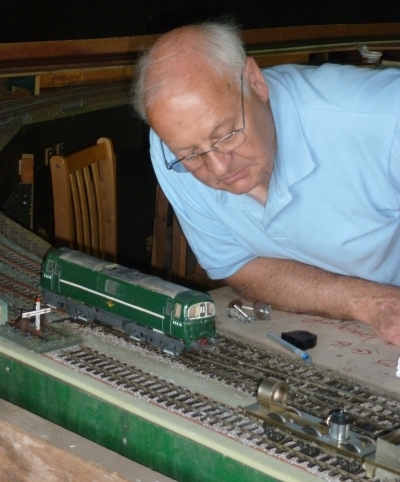 Unfortunately some very sad news – Peter Hingley died recently.
Although not all present members remembered his days at the helm of EK0GG, his energy and determination was instrumental in establishing the group and achieving some ambitious plans, such as the modules for use at the Fleur De Lis which we have recently recycled for Nailbourne.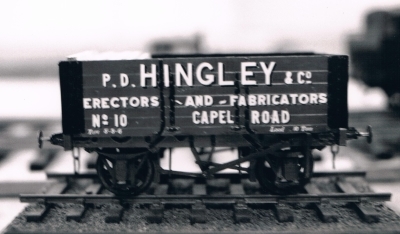 Soon after that news we were told that another founder member, John Batty, had died at the end of June. He had served the group as treasurer and had greatly encouraged the setting up of our layout.
July 21st Layout Session
What a lot of progress has been made at layout!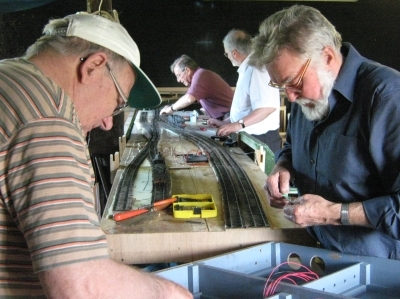 Locomotives ran between both branches and onto the main line. On the main line more rail joints were bonded between passing trains. Locos, mainly of SDJR ilk, began to shuttle around Nailbourne. Landscape is spreading around the curve to Cavedale, Garth's platelayers' hut positioned in the cutting and platforms painted.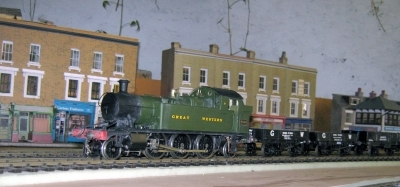 Out on the circuit I saw a "Schools", a prairie drawing a GWR signalling department train, a Black Five with a coal train and a pair of B4s. RJM
July 7th Layout Report by Ross S.
Saturday went well.
Thanks to Roger's help, we brought the work bench. It is now in place and it didn't fall through the floor.
Joe, Barry, Robin and I worked on Nailbourne. Robin and I tidied up the ballast. Jo and Barry, with the assistance of a tool brought in by Alastair, struggled to fit the brass dowels to line up the final board with its neighbour.
Roger, John and Stuart laid down a new surface on the platform at Cavedale. It now looks as if there has been a heavy snowfall!
Ron and Maurice ran trains on the circuit. The most fetching, I thought, was a GWR(!) breakdown train.
I was disappointed that, because I had to leave a little earlier, I didn't see Barry's S15 in action.