June 16th. Layout Session
The first of ten members arrived and picnicked with a family of spotted flycatchers nearby, before following Joe up to the layout.  Trestles were completed, baseboard frames surfaced and Nailbourne's point motors investigated.  John ran his pannier tank and a mogul.  Barry's King Arthur was on the other track while he organised tea and biscuits.  New acquisitions in full pre-grouping liveries for the LB&SCR and the SE&CR looked impressive on the circuit.
Photos: John Plumpton [lower] & RJM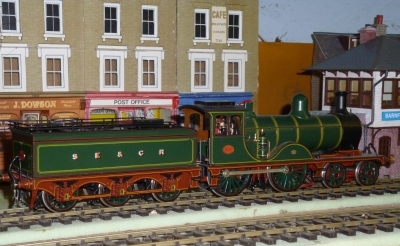 June 2nd. News by Roger & David
Ron's tram engine was let it loose on the mainline after a turn on Cavedale, where he'd been cutting down a signal box to a suitable size. Roger took a knife to some polystyrene foam for scenic work on Cavedale and then spent twice as long vacuuming up the tiny bits that such activity produces.
David, having brought the control panel for Nailbourne (He says the wiring is too simple to require a diagram to be drawn up. Hmmmm), moved on to wiring some of the boards with Robin.  Joe and Barry continued to construct trestle legs for when it gets taken out. 
Barry brought the G6 to run; now with brake gear, sandboxes and beading to cab and tanks.  David had his part built GNoSR class V (or F) running as well his BR Standard 4, which awaits paint.
All in all another good day.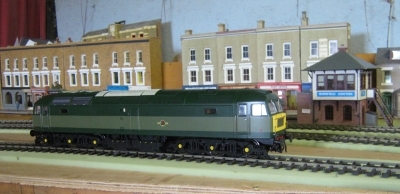 May ended with us picnicking outside once more and "our" bees buzzing past.  Joe and Barry set up a production line of trestles below, while Roger, Stuart and Geoff achieved a major tidy above.  On one line a set of locos were being run-in prior to appearing at the Chatham Show, while MR six wheel stock was on the other.  An embryo station building for Nailbourne was on display.
Show Report & photos by Ross Shimmon:
The exhibition organised by Shepherd Neame in the Old Brewery Store was successful. Twelve layouts were on show, ranging from N to G.  Given the location, there was a bar selling draught.      Apart from our own 'Upper Yard' by Roger and 'Tar Works' by Mike, favourites were a layout featuring both underground trains and trams and 'Hemyock' evoking the Culm Valley.
Roger and Mike had further developing their layouts. Much new intricate pipework has appeared on 'Tar Works', together with a "flat" towards the sector plate. Mike's new Pug began to run in, but wouldn't operate the sound system. However, the Dingham couplings were working well. Grass, hedges and blooming bushes have made an appearance on Roger's 'Upper Yard'. The computer-driven shunting puzzle worked well. It showed up my deficiencies as a shunter, although Maurice B. and John M. seemed to cope.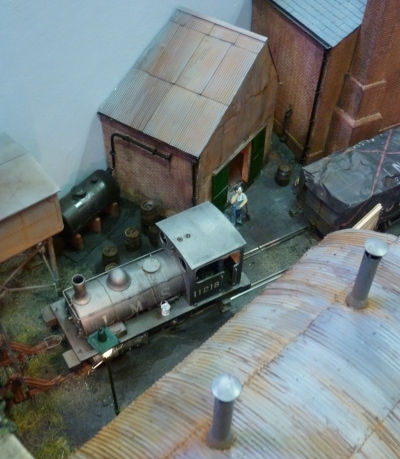 An amazing number of people came through the door, given the rather out-of-the-way location.  Perhaps the beer was a real attraction.  We received a lot of questions and may get some new members.