"At the Show" – report by Ross Shimmon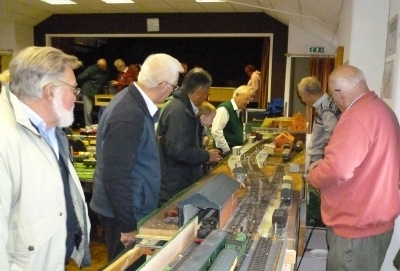 Geoff Roberts invited the EKOGG to take part in an Area 10 (South East) one day exhibition at Temple Ewell near Dover in early November. With an air of optimism we agreed to take our (trans)portable layout 'Nailbourne' for its first outing. It is based on a permanent layout bequeathed to us by a former member. It normally lives in the barn we call home during the warmer months, attached to a large continuous circuit and another (non-portable) terminus 'Cavedale'.
To prepare for the show one of our members constructed folding trestles. We also built a traverser and sector plate at one end and a tunnel with mirror at the other. The station is based loosely on Heathfield, LB&SCR. It consists of 6 sections, each 3′ x 2′. The track is Peco laid on foam, slow action point motors are used. We rely on members to bring stock. Surprisingly for a layout built using mainly recycled materials which lives in a building with wild extremes of temperature and humidity, it worked reasonably well.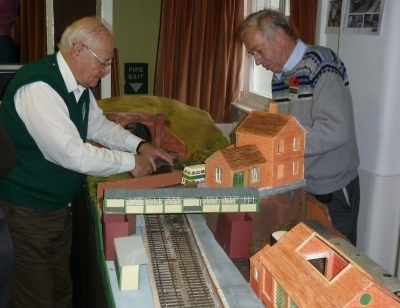 Several of us were exhibiting 0 gauge for the first time – and it showed. We did not realise how difficult it is to couple screw link couplings, especially on vehicles with vacuum and steam heating pipes. In the end we recruited a nine-year old boy and promoted him to chief shunter. It was an enjoyable experience – mostly. 'Nailbourne' wasn't the only EKOGG presence, Roger Harmer showed his fiendish coal yard shunting puzzle layout and Mike Perry exhibited his exquisite Tar Works, with lights and sound – all it needs is smell to complete the experience.
Among the star attractions was a Gauge 1 branch terminus, complete with a working Colonel Stephens-style wind pump and very smoky fire. Up on the stage was a 7mm narrow gauge layout with several locos based on the Hornby 'Smoky Jo' 0-4-0 tanks. Also up on the stage were trams which the builder insisted were made out of date boxes. In the middle of the delightful village hall was a display of vintage tinplate models, with non-stop running on a couple of circuits. Another continuous double track was busy with a Q1 and an O1 hauling substantial goods trains.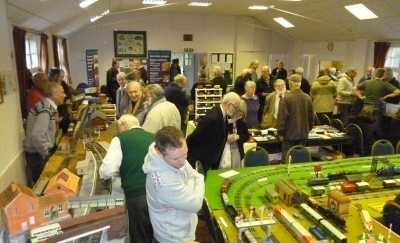 But for me, the outstanding feature of the show was the catering, provided by a local church group – scrumptious food at extraordinarily low prices. The official attendance was 210. Proceeds went to the Dover Soup Kitchen.
'Nailbourne' – encouragingly was awarded a trophy for the most 'industrious' layout. We were not quite sure what that meant, but we're taking it as a compliment. The Trophy? An EMU AWS warning unit.
Photos by John P & Ross S