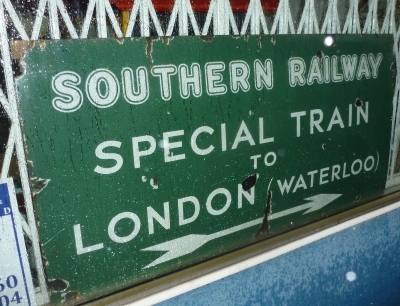 Nine people lunched before our December meeting in Faversham. Just across the road from the "Chimney Boy" Ross photographed a SR sign in the antique shop. Possibly it had come from the Brookwood Cemetery station. Mince pies, hot and soft drinks had been organised for, plus a sale of books and track. We started with the Christmas Quiz, which included many of Rob's photos. John M won, and had begun to think out next year's questions on the train back to Dover. To end we had a great film following a Bullied Pacific on a wine and dine run.
2010 Review of the year Another year of good company and problem solving! It has been a busy and enjoyable year. With around 21 members, we've totalled more than 320 attendances. That's 6 Faversham meetings, 16 layout sessions, 7 working parties and The Show. With differing interests and time available, members gravitate to certain projects, but rally round when needed. We send out newsletters, and maintain a website with news and members' photos. Our thanks to Alastair Malcolm for all his help to the Group.
Roger Harmer continues to represent G0G at shows with "Upper Yard"; masses of us seeing him at Folkestone. Mike Perry's "Tar Works" is also on the circuit. Sadly, we had news of the deaths of two founder members of our group: Peter Hingley and John Batty.February's AGM's business was swiftly dealt with before viewing the models and mini-layout on display. Certificates were given to several members for their modelling efforts: Barry Weston's Pacific, John Minter's Victorian coach, Mike Perry's detailed timber engine shed, and David Grimwood's freight stock.
At the March meeting, as well as evocative films of the end of steam, there was Ross Shimmon's mini test track. April's interesting talk on painting figures by John Regan had a good turn out. Joe Barron and his stalwart helpers have organised refreshments, while Jackie Davidson locks up, allowing others to dash for their trains.
Faversham in October was beset with technical hitches, but we gathered round a small screen to discuss models and events. Several members continue to lunch at 'The Chimney Boy' before meetings; everyone being welcome to join them. A "Bring and Tell" in November got everyone asking questions around tables displaying books and models. Film of a Bullied Pacific followed mince pies at the Christmas Quiz, which was won by John Minter.
Despite extended picnics, Layout Sessions have seen steady progress, with trains running on all sections. We are lucky to have the use of the workshop, and intend to use thick ply to prevent members dropping into it. Roger began a major spring clean with Geoff Roberts filling bins. Nigel Grant led the end of year party to check on leaks lighting and windows. Cavedale's electrical glitches seem sorted and refurbishment continues, with the band's efforts turning to the approach curves. On the main circuits, Maurice Baker is keeping the electrics up to scratch.
In the middle of the layout loft you had hardly been able to get to Nailbourne's for modellers; I once saw Robin Fielding displaced over onto the stairs. Joe produced trestles as Barry and John Plumpton conjured up a fiddle yard. You'd find Ron Steward and Stuart Harmer painting rails and beginning buildings and bridges; while in backrooms Ross built tunnels and John M. constructed signals. The electrics tempted John Buckle into the fray. Colin Smith, another stalwart, could be found terra forming with carpet, paving platforms and draping the display front.
Eighteen went to the Temple Ewell Show, and still we had to pressgang a youngster to do the couplings! Deservedly, David Grimwood received an award on behalf of all involved. Obviously, time evaporated in the final weeks before the show. E-mails with issues and ideas buzzed around afterwards, and are printed for all to see at meetings. We will need to set aside time for members to discuss and plan for the future.