In a change to the advertised programme, we set up the circuit around a bucket to catch the water from a leak in the roof. Today's focus was principally on Dapol stock but many other locos and other stock were also in evidence. Again, Bill and Fred ran some GWR locos with Fred having also brought in some good looking auto-coaches. I ran my SECR R class (ex-Bob Frid although in SR black) together with a large number of SECR coal wagons and a six-wheel brake (together the Whitstable Harbour to Margate Sands coal train). Roger ran a train comprising his Dapol Class 08 and Dapol hopper wagons and brake together with a very nice bogie bolster that had received Roger's expert attention.
Finally, David L ran his Lee Marsh GWR Class 517 0-4-2 tank. This beautiful model with DCC and sound is almost too good to run and needs to be handled with care with the gloves provided by Lee Marsh.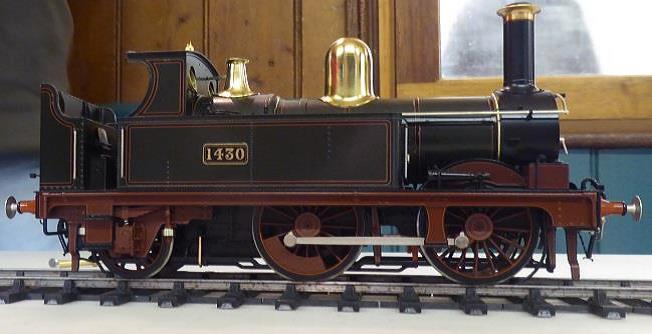 While all this was going on Jackie, John B and Steve worked on their modelling projects on the big table and Paul W, Barry K, David L, Bill and John P continued track laying on Lenham.
As usual over lunch I ran through our forthcoming meetings as well as the prospective topics for next year's Saturday meetings. Roger reported on the recent show at Gravesend and the forthcoming show at Ashford this weekend for which we now have sufficient volunteers. Our AGM in February will be split into two halves: the first half dealing with reports and other formal AGM business; and the second half an open discussion dealing with but not limited to proposals for our existing layouts, proposals for new layouts or projects, suggested club outings and any other issues or concerns members wish to discuss. If anyone has anything they would like aired at the meeting please let me know beforehand so that we can add them to the list and discuss them all in an orderly manner.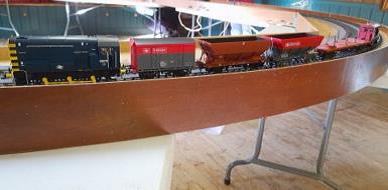 Finally, as we were packing up and getting Sarre ready to take to Ashford, Ian from the Hall Committee appeared and we were able to tell him about the leaking roof, to request that the missing tables be brought back and to order more cards for the hall heating.