The last trains for the season were run then we covered the layout with its winter protection ready for our return in spring. Curved modules now exactly fit between Nailbourne and Cavedale. Earlier the team patched a hole through the floor into the workshop below!
October's town meeting featured fascinating footage from LMS film of 1930's operation, with sections on Fleetwood trawlers and pit ponies at the coal face.
In November railway engineer Alan Crotty showed photos of glowing evening scenes, shed interiors and trains twisting through Californian landscapes. David W. showed his model KESR loco Hesperus.
December's Quiz, set by Roger, was convincingly won by Ross.
2010 Review of the year: We have about two dozen members; eighteen of whom we see on a regular basis. We met on 22 occasions over the past year, with over 230 attendances and some visitors. We made Colin Curtis a Life Member in recognition of his contribution to 0 Gauge modelling. On a sad note; Frank Berry died in late spring; some members attending the funeral.

We had a very good attendance for February's AGM, with more entries than ever in the modelling competition that followed it. Brass and plasticard loco projects, rakes of wagons, an SR concrete footbridge from balsa, a signal cabin and a tree all featured. Certificates were awarded for: Colin Smith's SR electric sub-station, Ross Shimmon's rake of early BR era wagons, Richard Barton's SECR freight stock, and David Grimwood's Black 5. A bronze green loco plus five dark red carriages, making the SECR Royal Train, was displayed in remembrance of Malcolm Parker. Meetings featured archive films and modelling tips. Members organised refreshments and the hall, with an exchange and mart table. We had a good turnout in autumn for Alan Crotty's atmospheric photos of preserved steam, followed by the big skies of Tehachapi Pass and USA scenes. Ross Shimmon won the December Quiz set by Roger Harmer; mince pies followed.
We continue to put news with photos into the G0G Newsletter. Barry Weston had a piece in Gazette about the pick ups for his S15 model, and Rob Moody photos of his I of W loco shed. Robin Fielding's S scale layout and fiddle yard were in the MRJ. Our website is updated every couple of months. Ross included in the Faversham website. Roger and others represent G0G at local events.
Much preparation work for the Faversham Show was done by John Plumpton and Barry, helped by a strong crew. Ron Steward and Roger transported display tracks, while Joe Barron brought the legs from his house to the waiting party. The rewiring and new dowels meant that we were set up soon after lunch time. We had a display of models as well as running trains.
Despite a fall off in attendance, the group enjoyed themselves, keeping two trains running safely despite talking to visitors and children. We sold some books, took others to the local bookseller and donated the rest to the Faversham Society.
At the Layout the main circuit has been in constant use, running well apart from one kink in a rail when the weather warmed up and a troublesome point that Mick Hodden, on a visit from Arlanc, dealt with. We've seen a wonderful variety of stock running, watching locos like David Grimwood's SDJR 0-4-4t, and Barry's S15 and Battle of Britain come to fruition. Ron's Great Eastern loco progressed, Class Cs proliferated, Colin S's green electrics and diesels featured, as does the LMS whenever Maurice Baker is present. Cavedale's supporting shelves were finished and the station is developing. Nailbourne's location was fixed in February. Ross, Colin S and David made a production line for baseboards before marking the tracks. Joe was instrumental in using curved modules to link it with the main circuit. After trying to staunch the leaks, we put the layout to bed for winter in October. A major concern is the weakness of the floor, due to damp, and we must make this safe.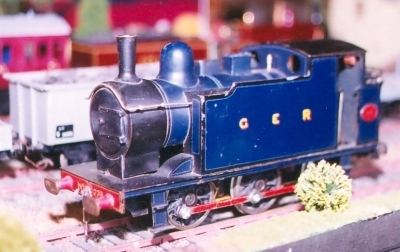 Photos: Hesperus by Ross S / Ron's GER tank Rob M