The highlight of spring was our celebration of 25 Years of modelling.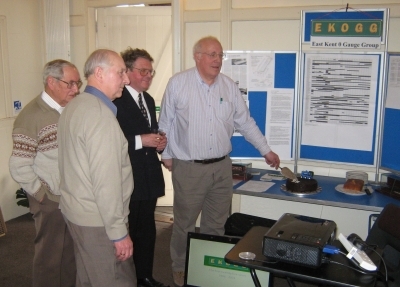 Founder Members Les Gibson, Maurice Baker, Peter Hingley & Ross Shimmon cut our 25 Year cake. [RJM]
We celebrated our 25 Years in style. Wine flowed, cakes were cut, by the Founder Members present, and acquaintances renewed. Displays of models old and new, plus photos and memorabilia spread around the hall for the thirty-one present to reminisce over. Ross Shimmon gave us a summary of the club's history, followed by David Woodnott's video of the "Wallingford" layout featuring many of his scratch-built locos.
Crew 1 moved into action to distribute the wine to toast our past and future, and were soon handing out delicious celebratory chocolate cake. Founders present received certificates, while 25th Year membership cards were given out. We all chatted with friends while examining the displays as Crew 2 were serving coffees and the Clearing-up Crew waiting in the wings.
Alastair called us to order and David Grimwood showed a selection of Heather Kavanagh's photos. Peter Hingley, who was instrumental in starting the group, took to the floor to tell us about those early years. Once again there was plenty of audience participation as we rounded off with Rob Moody's photos of models and layout working parties sandwiched between full size railways of 1986 and 2011. [photo of early "Loco Bodging" sessions – Nigel Grant]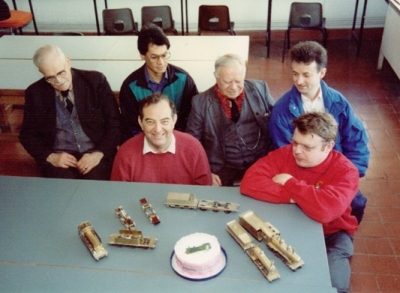 The Layout session on May 7th saw eight members working and running trains. Wires were soldered across rail joints in the main circuit for improved running. Joe continued Nailbourne's control panel. Robin's expertise as an exhibitor proved helpful in foreseeing potential problems, while Colin S. and the crew fitted ply to secure rail ends at baseboard joins and began fitting the track in the station throat. [David Grimwood]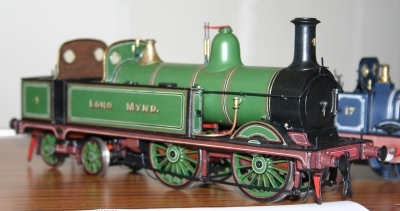 Colin Curtis was made Honorary Life Member in recognition of his contribution to 0 Gauge modelling.
AGM business was followed by the Modelling Show, with eighteen members pondering over which items to vote for awards. Richard B's delightful diorama of a horse tram from the Hythe & Sandgate Tramway that won the passenger stock section. A freelance Victorian 0-4-4t with open cab gained John M the loco award. (I guess we'll have to print off several "Highly Commended" certificates to cope with these close run contests.)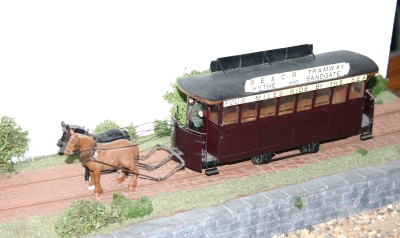 Photos Ross Shimmon & Stuart Harmer: John Minter's scratch-built Long Mynd; Richard Barton's diorama of the Sandgate to Hythe horse tram
On Cavedale, each board was tested in its connected state and the private siding gate swung to command – station lighting and running next. Meanwhile, on Nailbourne, mock-ups of station buildings and goods shed appeared. Work started on the carcass of the control panel, while switches and point motors were searched out. Over on the main circuits better positioning of the controllers is planned; and there is talk of powering the points! [Photos & news by Roger H. ]
Joe solves a problem at Cavedale. [ Ross S ]
We'd opened up the layout in March, and after cleaning were soon running again. In the interest of testing the circuit we got Barry's C Class and a 15 wagon train clocking a smooth 96mph!
At our Faversham meeting everybody had a chance to make suggestions for the future of the layout and say what they could help with. We'd watched highlights from the Burt Lancaster film "The Train" to start the day.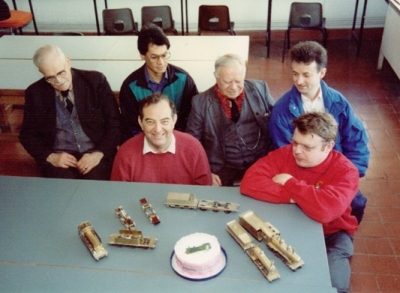 Early years at EK0GG – " Loco Bodgers" Tiny Morle, Robin Fielding, George Keen, Mick Hodden & others. Photo: Nigel Grant