Today's focus was on DMUs, EMUs and railcars.
The circuit was quickly set up (although possibly the wrong way round) once people had remembered how it all went together. John P then went off message running his reconditioned R1 before various multiple units and railcars appeared.
Sean took the opportunity to run his 2EPB set as he does not have the room to run it at home.
Fred ran his Connex South East DMU, David G ran his 4 RES 4 car set (before selling it to another member) and later his blood and custard GWR railcar.
Roger, Paul H and Ross also ran stock on what was a very good day for people who like trains without proper engines.
(Guess where the writer's loyalties lay in his choice of pulling power).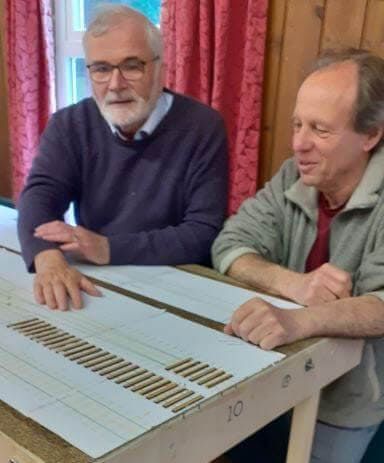 The Lenham boards were set up and Paul and David G stuck down the remaining parts of the track plan after much head scratching as to what bits went where and how to ensure that the track didn't run off the side of the baseboard.
Tim, John and David Ho continued their discussion on how to progress the micro layout and ideas seem to be crystallising so hopefully there will soon be something to see on this project.
Fred brought in the new banner and leaflets that he had picked up from the printers and showed them to general approbation.
Following Fred's hard work, the banner and leaflets have now been passed to Roger as head of shows for safekeeping and use anywhere where we have a presence.
Over on the big table John D had brought in some vintage private owner vans to show, Roger was converting a coal hopper into a scrap wagon and Mike was using a very nifty looking riveting tool to add rivet detail to an 0-4-0 crane tank that he is building.
Roger's wagon (above right) is a SJA box wagon for scrap metal. Only three were built.
They were conversions of MEA box wagons which had been used mostly for coal. The MEAs in turn had been built on the underframes of discarded HEA coal hopper wagons.
Paul W brought in the ultra sound device for deterring mice and this is now installed in the storeroom although we are still waiting for the hall management to carry out their repair works at the far end.