On a beautiful sunny day seventeen of us forsook the attractions of the great outdoors to congregate in the shade at Badlesmere to discuss all things railways and even do a bit of modelling.
Edington was set up and before people started running trains, John B and Jackie adopted their usual positions on the big table with John working on some tank wagon kits and Jackie following up Roger's recent talk to apply transfers, with Fred's assistance, to some Great Western freight stock.
Fred brought in and demonstrated a small turntable he had built to facilitate airbrushing carriages or indeed larger locos.

Bill worked on fitting screw link couplings to a passenger brake van while Paul H carried on with his kit building.
During all this our Deputy Catering Manager for the day John P kept our liquid levels up by providing teas and coffees.
Later Paul W, Barry K and David G carried out a stocktaking exercise in order to establish how many more sleepers, chairs and other parts we need to complete the track laying on Lenham. The answer is quite lot but at least it will give us many hours of fun threading chairs on to rails in the correct sequence.
During lunch we welcomed Rob back to our meetings after several months away and thanked him for his hard work and contributions to the Group over the years and latterly as Chairman.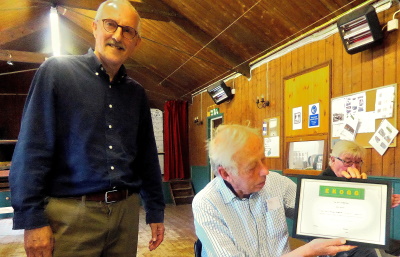 In acknowledgement of this I then presented Rob with a Certificate appointing him an Honorary Life Member of the Group.
In response Rob thanked us for our kind thoughts and said he thought one of his most important achievements was
introducing the big table format where we all sit around together and discuss things as a group.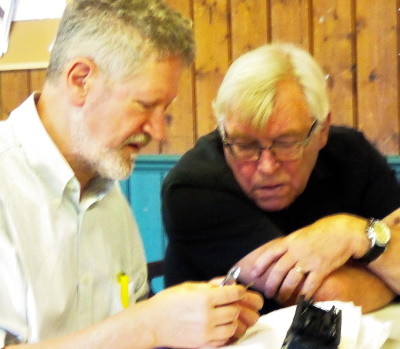 Other matters discussed over lunch included the forthcoming soldering skills session with Richard on 28th May, the trip to Mangapps Railway on 8th June , and our Open Day on 23rd July and the Group's Data Privacy Statement.
For the soldering skills session please bring along your own soldering equipment and any thing you are working on or would like some advice on.
Our trip to Mangapps Railway on 8th June will now start from Badlesmere at 9.30am.
After picking up people at Gravesend we will then head over to Mangapps where we expect to spend some two to three hours looking at the real thing before heading off to find somewhere to eat and then making the return trip arriving back at Badlesmere sometime late afternoon.
There are currently 14 of us going on this trip so we have a few spare seats on the mini bus. If anybody else would like to go please let me know as it would be a shame to miss this opportunity.
Our Open Day draws ever nearer and will soon be upon us so your Chairman will shortly be button holing people to get their firm commitment to supporting this event (actually your event) and making sure that it is a success.
After lunch Edington became operational with Ross's four wheel coaches from the Tenterden museum and several NPCS's being run behind, or in front of, variously a P class, an R1, a Terrier, a Pannier tank and Bill s LSWR G6.
I then carried on as the Fat Controller until close of play having great fun playing with other people's trains.