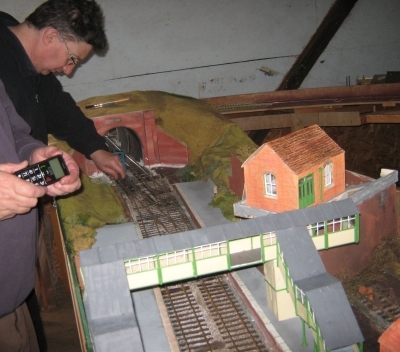 May 18th: Nailbourne has movement. It was back in its original site, everyone passing piles of boxes to clear the area. John P. and Ross soon fitted a retaining strip along the nearby test circuit to protect trains from members working round its boards. Stuart positioned footbridge and buildings so that we could see how the station will develop. Alastair's wife viewed the tunnel mirror… Electrics connected, a Lima shunter was heard to enter the tunnel – and arrive at the end of the line! New member Ken Logan arrived with Roger in time to picnic, before we had him moving chairs and boxes. RJM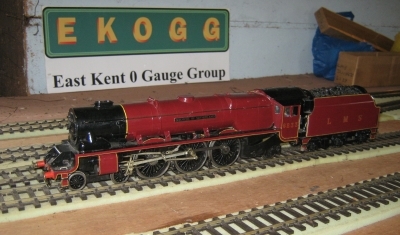 May 4th: Back at the layout, first out on the circuit was an SE&CR class J 0-6-4t. It was soon joined by a Black 5 on a rake of corridors, "Duchess of Sutherland" with more mundane coaches, plus an M7, in brass, on test.
Roger's team had completed a good tidy of all the boxes and files that they've been sorting. There are still plenty of puzzling pieces, including several part made coach bodies of an early era.
Soon Nailbourne's first three station baseboards were connected. Cables are now ready to be plugged into controllers. We are shortening the over-all length of the station by re-locating the crossover and drastically shortening the last section before the tunnel mouth. RJM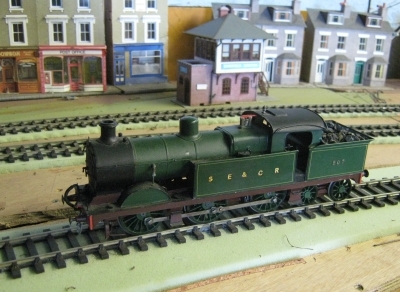 April 20th: We seemed to "be in the wars" with Richard confined to quarters,Mike Scott hospitalised and Robin getting a broken arm. Eight almost hale members lunched before our town meeting, to be joined by another eight for planning and old films.
We agreed asking for a G0G grant towards flooring once the roof repairs are under way. After Peter Hingley's death his sister asked the group to deal with the disposal of his models, while the books will go to a preserved railway. David organised transport, with Roger's helpers sorting and listing.
A forest of hands approved the purchase of Mike Perry's layout for exhibiting. Twelve feet long on three stacking sections, this depicts a line threading its way between a goods yard and loco facilities. The hand built track will require wiring, and buildings made to slot into their positions. John Plumpton stressed the importance of careful planning and good materials in continuing this project. We will certainly be able to provide for various interests and skills, keeping everyone occupied with that and our test circuit plus termini. RJM
April 6th: A quiet day at the barn today; Joe, Barry, John P, Morris and Roger plus a new member, David Hopkins. At various times Barry ran his part built M7, Morris a LMS liveried Whale Precursor tank and Roger a Heljan class 47 diesel.
John and David got the three curves linking Cavedale and Nailbourne into place although they still need a slight adjustment. Probably just a need to swap the legs around. Joe has provided a set of IKEA shelving for storage and we cleared the three desks/workbenches on to the shelves so as to leave the worktops clear to stack and sort Peter Hingley's stock.
Roger called on Richard Barton on his way to the barn. He is now well enough to be up and about in the house and his whiling away his recovery hours scratchbuilding rolling stock. RH