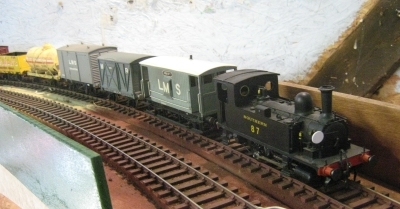 August 31st: London & South Western locos walk away on longest freights.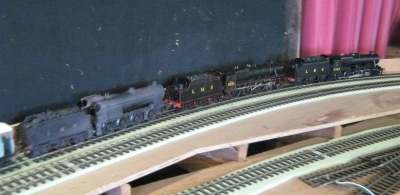 We busily coupled three link wagons into rakes until we went cross-eyed, then shunted them to the outer circuit where Geoff's little B4 pottered along. It had 37 on before taking a rest. With 7 more behind, Ross coupled up his B4 and away it trundled. Maurice, who'd instigated this, made it up to 50 wagons for his LMS Black 5. It was later joined by an 8F and, finally an 0-8-0 for triple heading. The LSWR took over with a S15 which took them away at the speed of a "Perishables" out of Southampton Docks! When I left electro-diesels and GWR locos were lining up for their turns.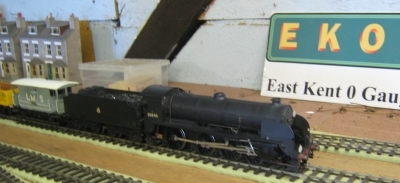 The fourteen of us also admired new floor panels, culled junk, replaced layout supports, examined track plans, and had a convivial picnic.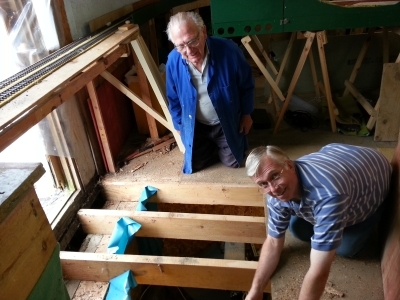 August 17th: In hard hat I ventured up to find David H and Nigel working on the new door. They'd made a new frame, fitted the glazed door and proofed outside. The new lifting section was nearly complete. Our home looks smart as Roger's people totally cleared the landing floor and filled numerous black sacks with clutter. Floor repairs continued with the occasional clatter of a piece dropping into the depths. We chatted over mugs of tea looking down on the combine in the oil seed field. More trains should run next time. [Photo Nigel: Joe B & David H working by the new door]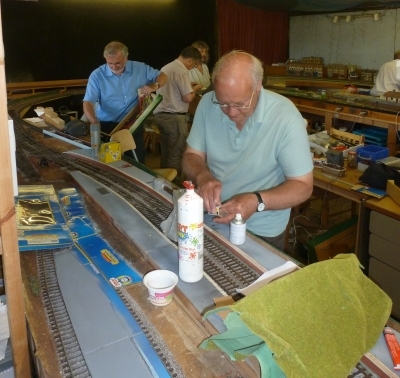 August 3rd : Layout Session from notes by Roger H. Another good meeting preceded by the taking of sandwiches in the garden. We also enjoyed a visit from Peter and Stan from SEGOG. Stan had KESR No 4 and A S Harris with him which pleased Ross. Alan ran a BR rebuilt Bulleid pacific and Barry his unpainted version. They were soon in deep conversation on the merits of kits and construction methods, with David all ears.
Colin and Ross spent time on Nailbourne's scenery, while David moved powerful controllers to the main circuits. Nigel spent time on the roof discovering in a practical way that it will bear his weight, and looked at the end wall. (STOP PRESS: Nigel found a new door and he and Roger delivered it to the barn on 5th.) Joe B will be meeting up to create a lift-out section in the track there.
After tea Peter Clark had a 2-HAP, built from one of his own kits, a 73 electro-diesel and a class 37 diesel running on DCC. We had lights, engine sounds, horns and smoke.
All in all a typical barn meet (ahem). RH Photos: Ross S – "Colin & David G work on Nailbourne" + "Stan's ex-P&SWJ loco"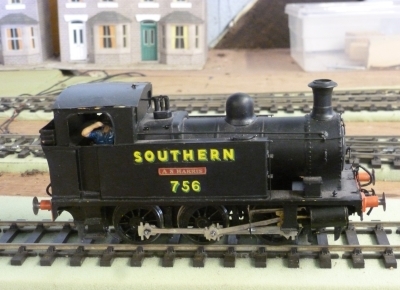 August 1st: Eight of us joined the Fielding family at Robin's funeral in Lynsted, where Police outriders led escorted the hearse. We returned to Mary's home to remember Robin's life with S gauge modellers and friends. RM
July 20th: It was a subdued day for the eight of us at the layout, this Saturday. We had the news that Robin Fielding had died at St Thomas' on Thursday. Well known as an exhibitor in S gauge circles and an active member of Colonel Stephens Society, Robin was a founder member of EK0GG and one time chairman. We will greatly miss his positive and practical help.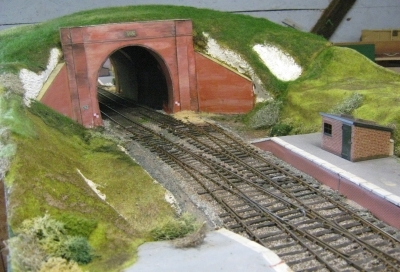 While chatting over our picnics, Roger told us about his visit to the Pett Show with the sales stand. We compared colours for PD&SWJ models. Up in the loft, a fluorescent light was installed above Nailbourne's platforms, so we could actually see to work on scenics! Difficulties on the main line highlighted a need for beefier controllers. Tidying continued.
Before an early mug of tea, we checked out the structural repairs we hope to tackle. The session ended with John and David H sawing timber into shorter and shorter lengths to support the projected loco shed, to the accompaniment of the Macbeth witches' speech…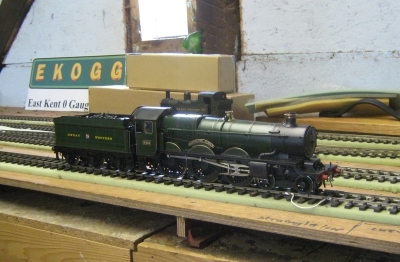 July 6th [From notes by Roger H]: Although many of the usual suspects were absent, we still had a good turnout: fifteen, including two new members and Val.
After spending too long enjoying the sun, we finally dragged ourselves into the cool of the barn. David set to with the lighting; Nigel attacked the floor with assorted helpers (it seemed to be someone else each time your scribe looked….) Maurice, Joe, Alan and Richard ran some stock and I've a feeling that Barry may have run his M7.
Roger sorted out some of Peter's stock to take to the Pett show on Sunday 14 July at Pett Village Hall. John the tram purchased a possibly complete Dukedog to finish so that he has something to run at the layout and others made off with machine tools. On Nailborne with the grass over the tunnel was completed. Ron brought some brickpaper that he had made earlier.
June 15th: Ross and Colin brought the tunnel mouth to life with chalk slopes and shrubbery. The electro-static grass fascinated us. Ron is producing more brickwork for the bridge approaches. Electrics completed John P and David H had a G6 running on the curve, where loco stabling is planned. Meanwhile Joe B made a large hole in the flooring. in his inimitable way. He seemed none the worse and continued with laying the first new boards. (We have received a grant from G0G towards materials.) SEG0G members Joe S and Alan K came with cake and several locos. Maurice and Robin soon directed them to the circuits. Area Rep. Geoff also turned up a little Sentinel shunter. Roger was preparing for our sales stall to the Pett Show. John P had a selection of plans for our exhibition layout, some of which David G took to be drawn up, before we make decisions. Various people joined Alastair to examine the tractor, as mowing was needed; while the lighting bods were scaling the heights above.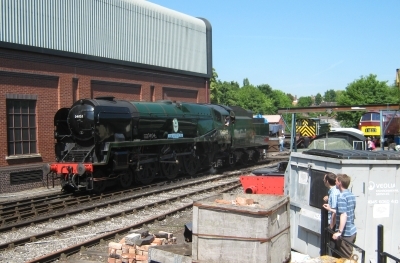 June 7th: Before having breakfast in Kidderminster we delivered Peter Hingley's book collection to the Severn Valley Railway's three bookstall managers.
Perhaps some older members of the SVR will remember our late chairman helping at Bridgenorth. His sister Jane Rigby arranged for the donation. Some of Peter's models have gone to the Light Railway Display at Tenterden.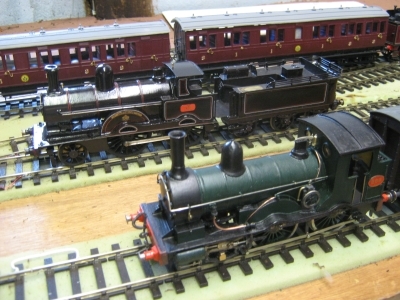 June 1st: Eleven of us lunched amongst rampaging grass and hedgerow plants before going up to the layout and being very busy. Fitting bulbs and tubes continued, while down below the new floor sections were waterproofed with a strange red mixture brewed by Joe. "Hardwick" modelled by our first chairman, the late Peter Hingley, was on the main line beside an LMS freight with salt vans. Cavedale was being shunted by a LSWR well tank. Nailbourne was readied for shuttle trains, and track recovered from old baseboards. Models and equipment for sale were sorted and gathered; some being destined for our stall at the Pett Show on Sunday July 14.
John P and David G updated us on plans for a quality exhibition layout from scratch. Hand built track on profiled boards with plug in buildings will be the order of the day. The setting/era should allow virtually any stock. They hope members offer their favoured layout soon, so detailed planning can start.